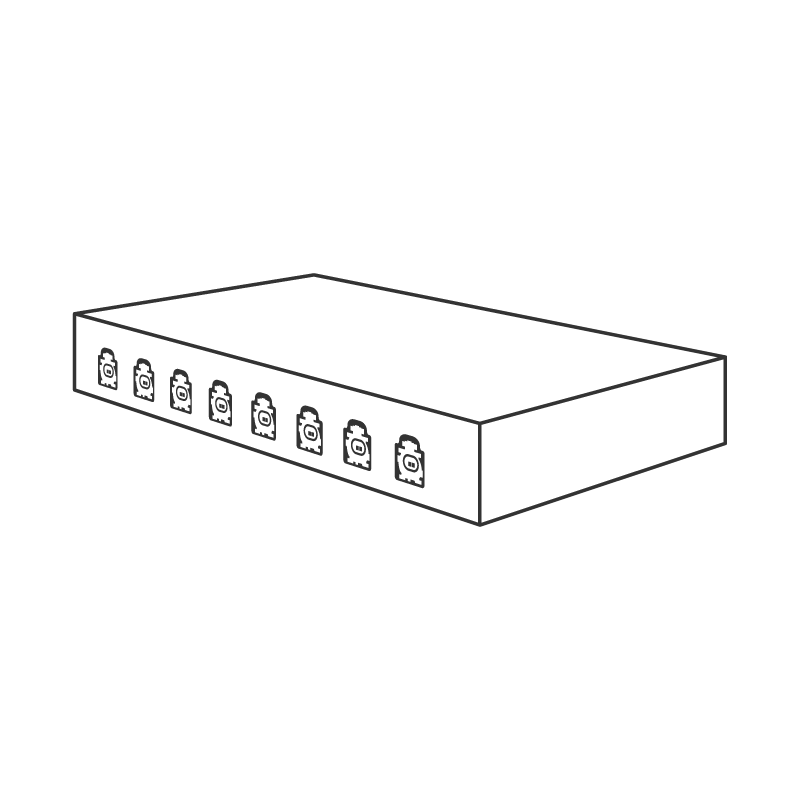 Technica Engineering's Switch-Based products are the ideal development tools for testing and validating Automotive Ethernet vehicle networks. They have achieved a solid market position and acceptance due to their large scope of use-cases for over a decade.
They allow for a managed, multi-directional exchange of Ethernet messages, thus providing the customer with a wide range of automotive test solutions. This group of devices is suited for a large range of applications.
The MediaGateway allows basic communication between CAN, 1000BASE-T, 100BASE-T1, and 1000BASE-T1. Its functionalities can be additionally expanded by activating FlexRay logging via Ethernet.
Through its in-built switches, they enable the capture of in-vehicle communication, as well as the interaction to T1 nodes in a test bench set-up.
This can be very useful whenever RBS (residual-bus-simulation) is needed on the Ethernet side.
Our Enhanced Ethernet Switch allows the user to communicate with both 100BASE-T1 and 1000BASE-T1 nodes. With uplinks of 10Gbit/s, the device can easily manage and interact with all the communication exchanged between all 8x 1000BASE-T1 ports of the device.
The configuration of all our switch-based devices is through a conveniently integrated web server, simplifying the management of their functionalities. In the case of the MediaGateway, this includes Master / Slave and Port enable / disable configuration, as well as Port Forwarding and Mirroring, single / double VLAN Tagging. The MediaGateway is also the first platform ever to provide active 802.1AS Bridges for testing purposes of gPTP networks.
The Enhanced Ethernet Switch is our newest device generation and includes further versatile and dynamic features, additionally to the previousy mentioned ones. These features are Port segmentation, PTPv2 to gPTP Bridge, Ingress Rate Limiter, Bandwidth Reservation, Advanced Filtering, gPTP for Time synchronization, Remote API for configuration.
To tackle the challenges of Automotive Gigabit Ethernet, a combination of these groups of devices together with other Technica Engineering products expands their range of applicability and widens their testing capabilities. For instance, our 1000BASE-T1 MediaConverters (LINK) and 1000BASE-T1 SFP Module (LINK) can be seamlessly used with our MediaGateway and Enhanced Ethernet Switch, providing the user with a complete testing solution for both 100BASE-T1 and 1000BASE-T1.
All-in-all, the Switch-Based products are the most powerful and flexible solutions to tackle the tasks of Automotive Ethernet testing safely and efficiently, thus allowing for a broad testing experience of vehicle technology systems.
If you have any further queries, please contact us at support@technica-engineering.de
Use case