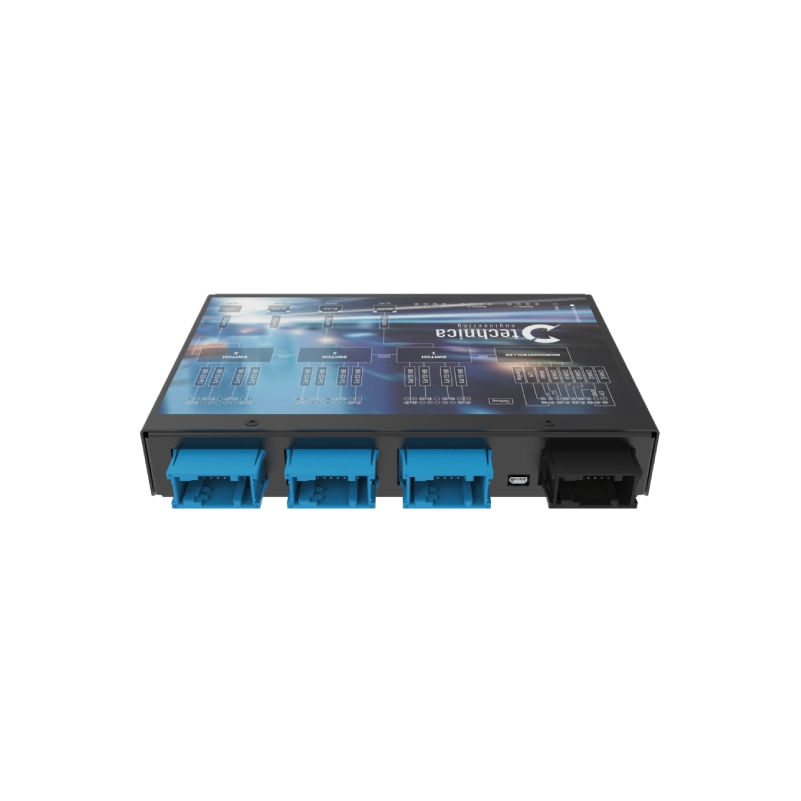 Part Number: 1100
Media Gateway
Product Description
Media Gateway from Technica Engineering is a development tool for testing and analyzing onboard vehicle networks. Media Gateway features 3 x in-built automotive Ethernet switches, which means it can offer many ISO/OSI Layer 2 functions. It is equipped with 12 x 100BASE-T1 ports and 4 x Standard Gigabit Ethernet ports (one of which is an SFP slot (small form-factor pluggable). These ports are capable of bi-directional communication and enable the capture of traffic between devices while keeping normal communication. It also enables the user to interact with connected DUTs in a test bench or Hardware-in-the-loop (HiL) systems. With the support of single VLAN tags (802.1q) and double VLAN tags (802.1q-in-q), it can conveniently be adapted to a test setup. It also features port mirroring, forwarding, address resolution table, and much more. The Media Gateway is also capable of acting as a gPTP bridge node or even a gPTP Grand Master (802.1AS) to assist in time synchronization.
Media Gateway is the right fit for subsystem testing stations and can also be installed in a test vehicle without complications. The Media Gateway uses standard 1000BASE-T interfaces which means it can be coupled with any hardware or software tool supporting 1000BASE-T technology. It is configured conveniently via a browser via the integrated user-friendly configuration webpage. Full configuration files can be saved from one device and uploaded to any other identical via the configuration webpage. Additionally, this product supports proprietary configuration messages via SOME/IP.
The SFP slot supports commercial grade SFP modules like standard Ethernet SFPs (100BASE-Tx/1000BASE-T), Technica's Automotive Ethernet SFPs (100BASE-T1 (TE-1430), 1000BASE-T1 (TE-1437)) and Optical Fiber SFPs.
An additional and optional CAN-Ethernet bi-directional conversion is available on the Media Gateway which enables it to act as a Gateway for a 5x CAN Channel at low performance. An additional feature for FlexRay logging via Ethernet is also available. The Media Gateway comes with 2x WakeUp lines to optimize power consumption and even control external devices. MediaGateway can also wake up via CAN.
Technica Engineering always tends to focus on providing futuristic solutions for the current problems in the automotive world. The need for our Media Gateway arose from the increasing tendency toward 100BASE-T1 technology, together with the need for both developing and testing onboard vehicle networks using this technology. Because of its remarkable features, the Media Gateway has been a popular product in the portfolio since 2011 and counting.
Technical data
FACTS
12 Broadcom 100BASE-T1 ports (100 MBit/s full duplex on a single unshielded twisted pair)
3 Gigabit Ethernet ports
1 SFP Gigabit Ethernet port
Automotive Tyco MQS connectors for 100BASE-T1 and power supply
19 status LEDs
Robust, galvanized sheet steel housing
Power requirement: 8 to 16 V DC, power consumption: 8 Watt
Size: 195 x 143 x 33 mm
FEATURES
Single/Double VLANs
Port Mirroring
Static/Dynamic ARL Table
Web server for easy configuration: Master/Slave, HalfOut/FullOut
WakeUp-Function over Wake-up Line
Power output for attached devices: VBAT max. 1 Ampere in total
Possibility to reset to default settings by pushbutton
802.1AS Bridge function
Use case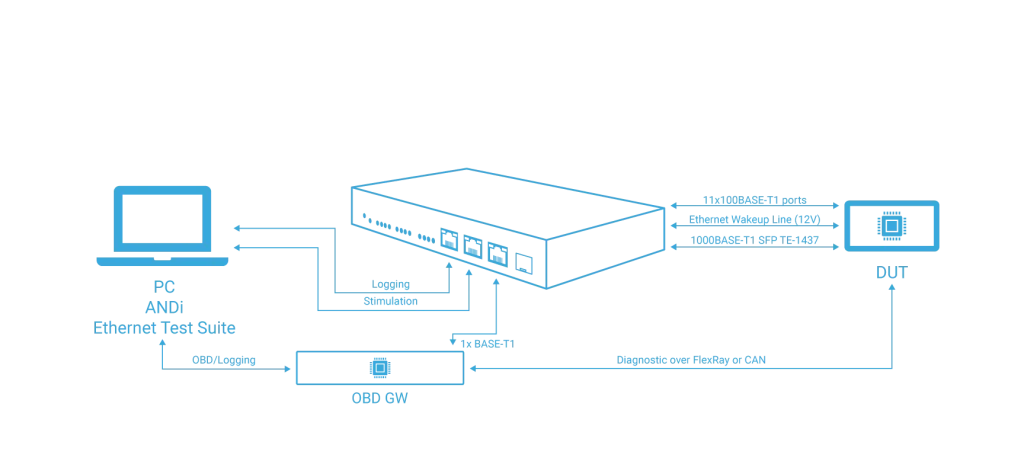 Downloads
Further information below
Fits well with