At Technica Engineering we offer Test Suites and Software products that are complementing our hardware products, offering a range of testing tools for Automotive E/E testing and development on the system and component level.
Our ANDi (Automotive Network Diagnoser) tool is a testing tool for Automotive Ethernet ECUs. ANDi includes the first Automotive Ethernet Rest Bus Simulator (RBS) on the market and is characterized by its great adaptability. The user can add own databases, display signal graphics and include external libraries in ANDi. Further, the tool offers a wide range of flexibility in ECU testing by incorporating Automotive bus systems like CAN and FlexRay. ANDi performs as Traffic Generator, Traffic Viewer and Scripting Tool, so it can inject, interpret and validate all types of traffic.
This combination offers the customer an affordable, flexible and multiple-purpose solution, which can be seamlessly used with other Technica Engineering products.
Our ANDi Ethernet Test Suite (ETS) is a toolsuite of testcases that is adapted together with individual OEMs to test the single component functionality and the system-level compatibility of ECUs from the beginning of their development for the correct implementation of the proprietary part of the Automotive Ethernet Stack at Tier1 suppliers of ECUs. Our ETS is not only limited to the Open Alliance TC8 test cases, to provide a check before an ECU is integrated and tested on the system level. The tests in this tool are automated scripts that can be executed with one click, Technica takes over the responsibility to continuously update the test suite.
Use case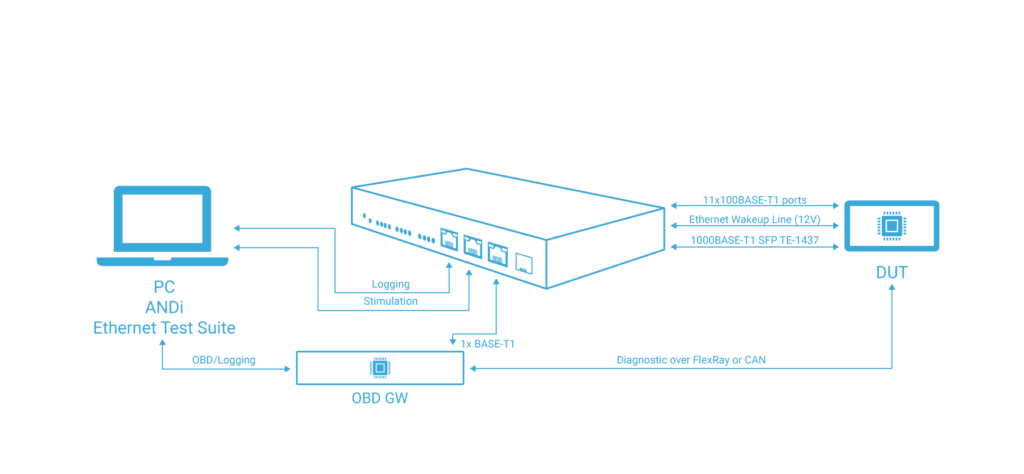 Fits well with