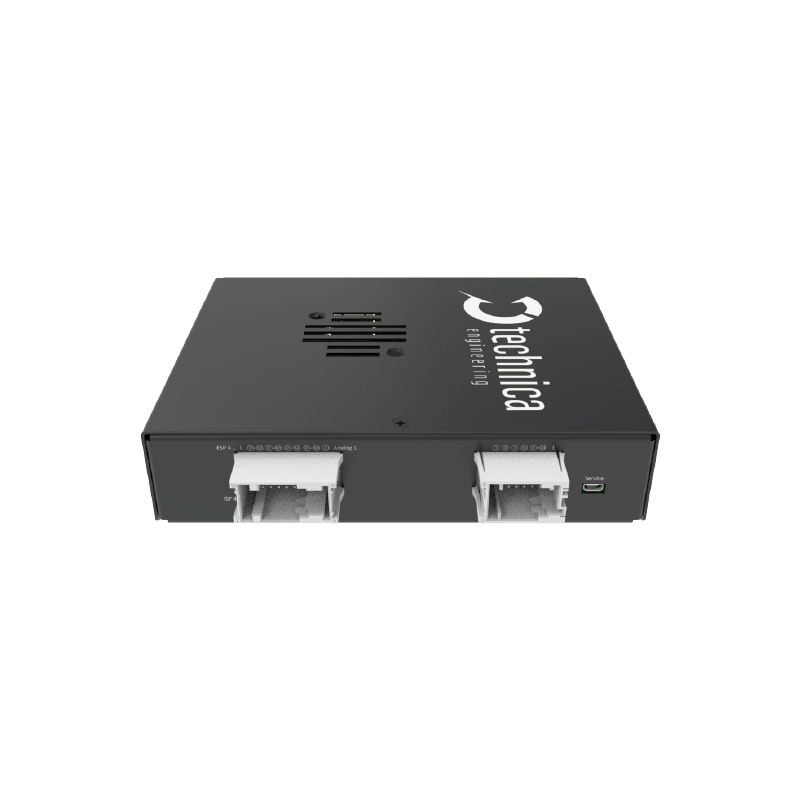 Part Number: TE-1180
ILas Sniffer
PROTOTYPE
Product Description
The ILaS Sniffer of Technica Engineering is a logging device used to capture and timestamp ILaS (ISELED Light and Sensor network) communication.
To be able to log the data with a minimal impact on the tested system, the ILaS Sniffer is connected to the communication line that is observed. This way, all data sent over the line are timestamped. Our ILaS Sniffer can be used to log up to 4x networks of ILaS traffic. Further, it includes the possibility to capture 1x 10BASE-T1S line and 1x analogue communication line.
The ILaS Sniffer supports 10BASE-T1S event logging capabilities which allows the device to react to situations such as 1) a beacon being received, 2) end-of-stream delimiter error, 3) PLCA symbols detected/missing or 4) PLCA empty cycle. With these features the product provides deep insights into the network and a reliable solution for network diagnosis.
On the back side of the device you can find three 1000BASE-T RJ-45 connectors. These connections are used for 1) the device configuration, 2) data uplink to a test PC or logger and 3) time synchronization with other logging devices.
Among other characteristics, it also includes individual LED status and error per link, making it easy to monitor network status. The wide input voltage range of 6.5-to-32-volt DC ensures that the device can be used in Automotive environments (12 /24 Volt nominal). It also allows easy-to-use configuration through an HTML webserver interface. 
Our ILaS Sniffer supports 802.1AS to enable time synchronization in applications with multiple communication technologies (ILaS, CAN, Automotive Ethernet, …) logged by our Capture Modules. Further, the PLP, and TECMP protocols are supported to provide synchronized logfiles including important meta data. ASAM CMP support is in development.
Technical data
FACTS
Logging of 4x ILaS links (INOVA INLT220Q PHY), 1x 10BASE-T1S link (Microchip LAN8670 PHY) and 1x analogue link
3x RJ-45 1000BASE-T Ports for Config, Logging data output and Timesync
Network Time Synchronization (802.1AS gPTP automotive profile support in GM/Master/Slave roles)
Individual LED status and error per link
Wide voltage range: 12 /24 Volt DC
Robust galvanized sheet steel with black powder coated housing
Size: 36×166,5x130mm
Temperature range: -40°Celsius to 80°Celsius
FEATURES
Configurable advanced filters with multiple actions and protocols options (LinkUp/Down, MACsec Header …)
ILaS events logging: Beacon received, end-of-Stream delimiter error, PLCA Symbols detected/missing, PLCA Empty Cycle, etc.
Easy configuration via webserver
Import and export of configurations
Network Time Synchronization supports several standards (AVNU gPTP / 802.1AS, PTPv2) – allowing the user to synchronize multiple Capture Module variants and other devices
Accurate source hardware timestamping with 40 ns resolution
Optimized startup with a startup buffer (<200ms)
Better: Optimized startup with a startup buffer [AS1]
Rotary switch for manual configuration of the device IP address (Gbit, RJ-45)
TECMP support
Startup buffer including time correction for buffered frames (before time sync)
Wake-up/Sleep functionality (IN/OUT)
Possibility to reset to default settings by the rotary switch
Use case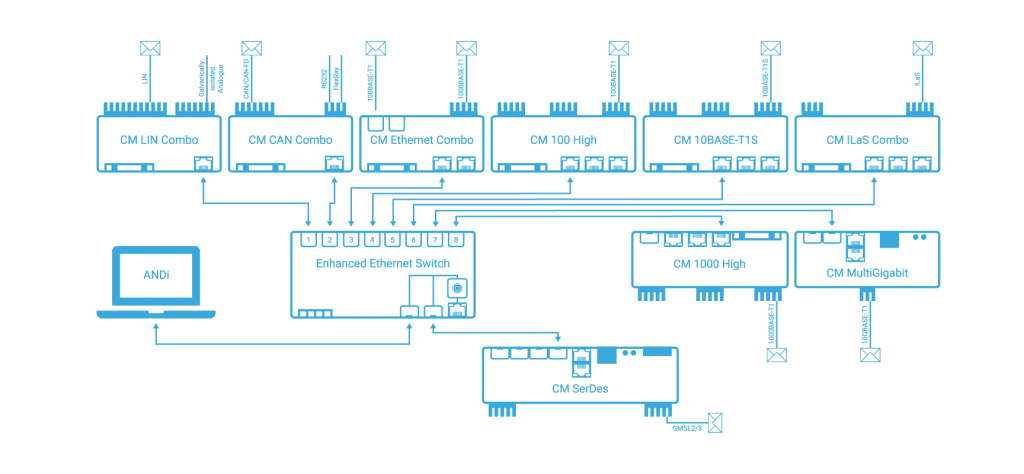 Downloads
Find more information here:
Fits well with