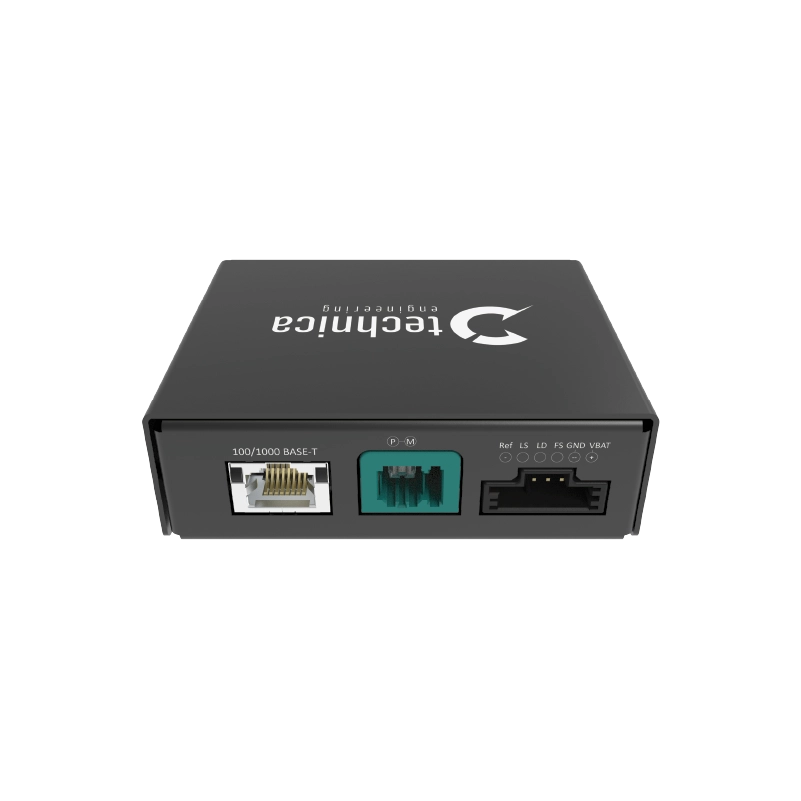 Part Number: TE-1402
MC 1000BASE-T1 MATEnet
Product Description
The MC 1000BASE-T1 MATEnet from Technica Engineering is a smart tool used in automotive product development to test electronic control units (ECUs). It creates the link between an onboard vehicle device based on 100/1000BASE-T1 and the network interface card (NIC) of a computer belonging to the testing and development set-up. Thus, it transmits data frames directly from the physical layer 100 or 1000BASE-T1 and the physical layer 100BASE-TX or 1000BASE-T, with a deterministic and constant delay of approximately 2 microseconds.
No packets are stored or modified. Technica Engineering's new generation of MediaConverters adapts to market trends and provides the user with innovative, practical solutions. Thus, via the system connector, 3.3 V signals are made available to force slave mode and force link down, as well as to monitor the current link status. These features are one-of-a-kind for this kind of device and are very practical for use-cases, such as End-of-Line (EoL Tests), Automated Hardware-in-the-Loop (HiL), and DV and PV applications and multipurpose testing under tough environments. 100/1000BASE-T1 MediaConverter MATEnet provides a seamless Standard Ethernet to Automotive Ethernet conversion, through the combination of RJ-45 and MATEnet connectors.
This Fast/Gigabit (FE/GE) MediaConverter is an adequate solution to work quickly and efficiently in the testing of vehicle technology systems, through the 100/1000BASE-T1 technologies, which is in high demand by the OEMs and Tier 1s of the Automotive sector.
By using the Marvell 88Q2112 A2 transceiver, we ensure a reliable and effective tool for our customers that are looking for a cost-efficient, quick, and manageable solution for their testing requirements of devices equipped with 1000BASE-T1 Phys.
This functionality is complemented by MediaConverter's DIP switches, which allow the configuration of modes in an effortless manner, making the product an easy-to-use tool. For ease of use, the DIP switches provide a selection of master/slave, 100 or 1000Mbit/s, and frame generation (to generate Ethernet Frames for 100/1000Mbps modes). Further, via DIP switch the Marvell 88Q2112 A2 Phy can be used in "IEEE" or in "Legacy" mode (For a technical description, please check the User Manual).
The 100/1000BASE-T1 MediaConverter is the ideal smart, easy-to-use solution for working efficiently with Automotive Ethernet, and it fulfills the increasing need for testing and validation solutions for state-of-the-art communication technologies in the next generation of vehicle systems.
Technical data
FACTS
4 × DIP switches
7 × Status LEDs (2 of them at the RJ-45 port)
1 × RJ-45 port for 100/1000BASE-T Standard Ethernet
1 × MATEnet port for 100/1000BASE-T1 Automotive Ethernet
1 × MQS connector
Voltage range: 12 to 24 volt DC
Power consumption: 2 Watt
Robust, galvanized sheet steel with black powder coating housing
Size 89 × 72 × 28 mm
FEATURES
Converts between 100/1000BASE-T1 Automotive Ethernet and 100BASE-TX/1000BASE-T Standard Ethernet
Force Slave mode and link down (input) and povide link status (output) via special MQS connector
Debugging possible via Micro HDMI connection
Configuration via DIP switch:

DIP switch 1: Master/Slave
DIP switch 2: 100/1000 Mbps
DIP switch 3: IEEE-/Legacy-mode
DIP switch 4: Frame Generator
Use case