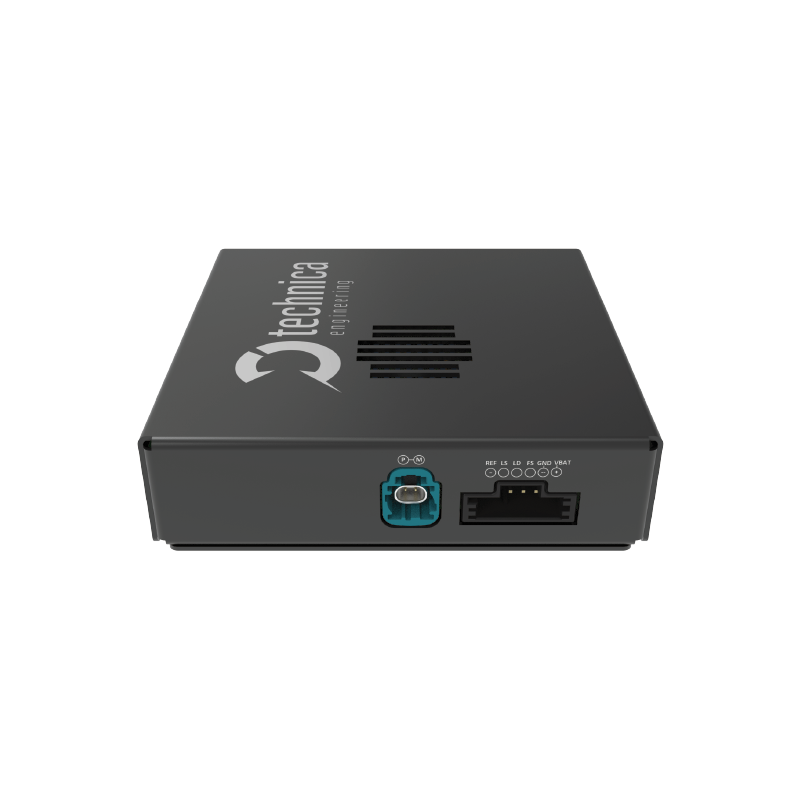 Part Number: 1415/1416
MediaConverter MultiGigabit
Prototype
Product Description
The MultiGigabit MediaConverter from Technica Engineering establishes a direct point-to-point conversion between Automotive ECUs using any of 2.5/5/10GBASE-T1 MultiGigabit standards and a SFP+ module compatible with any MultiGigabit Ethernet interface. In the conversion, no packets are stored or modified, the conversion takes place on the physical layer with the highest proven reliability.
This device uses the 2.5G/5G/10GBASE-T1 IEEE 802.3ch compliant Automotive Ethernet PHY. It is one of the first implementations of a MultiGigabit Automotive Ethernet physical layer media converter. We ensure a trustworthy and effective tool to our customers that are looking for a cost-efficient, quick, and manageable solution for their testing requirements, with no latency and no packet loss.
The MultiGigabit MediaConverter features bi-directional conversion between automotive MultiGigabit Ethernet standards (2.5/5/10GBASE-T1) to any other ethernet standard through the SFP+ module and the rate matching feature enables possibility to interface between different line speeds. No customized driver is needed to interact with this MediaConverter.
A convenient housing made of galvanized sheet steel, coupled with DIP switches for ease of configuration, enables the user to interact with the converter effortlessly. Its design makes it portable and easy to install in test racks. The metal housing makes it robust with IP20 protection. The devices can also be accessed using the USB connector to read PHY register values as well as information regarding link quality and SQI. With the in-built status LEDs, the operation of the device is transparent and aids the tester to detect link-up and data transmission visually.
Thus, the MultiGigabit MediaConverter is the ideal solution for working quickly and efficiently with the new 2.5/5/10GBASE-T1 technology without the burden of extra-wiring, customized connectors, and vendor-specific tools.
Technical data
FACTS
4 × DIP switches for easy configuration
4 × Status LEDs
1 × Standard SFP+ port
1 × H-MTD port for 2.5/5/10GBASE-T1 Automotive Ethernet
1 × MQS connector
1 x Micro USB-B port
Cableset:

Tyco MQS socket
1 × Automotive H-MTD connector
Cableset (Power, 10GBASE-T1)

Voltage requirement: 12 to 24 volt DC
Temperature Range: -40°C to + 85°C
Robust metal case with black powder-coating
Size: 100 x 93.5 x 27 mm
FEATURES
Allows easy connectivity to ECUs with 2.5/5/10GBASE-T1 MultiGigabit Automotive Ethernet ports
Supports line speed rate matching to be able to adapt to different bandwidths between the 2.5/5/10GBASE-T1 interface T1 line speed and the one negotiated on SFP+ module side.
I/O signals to easily interface to automated systems
Possibility to update firmware via Service micro USB-B port
Use case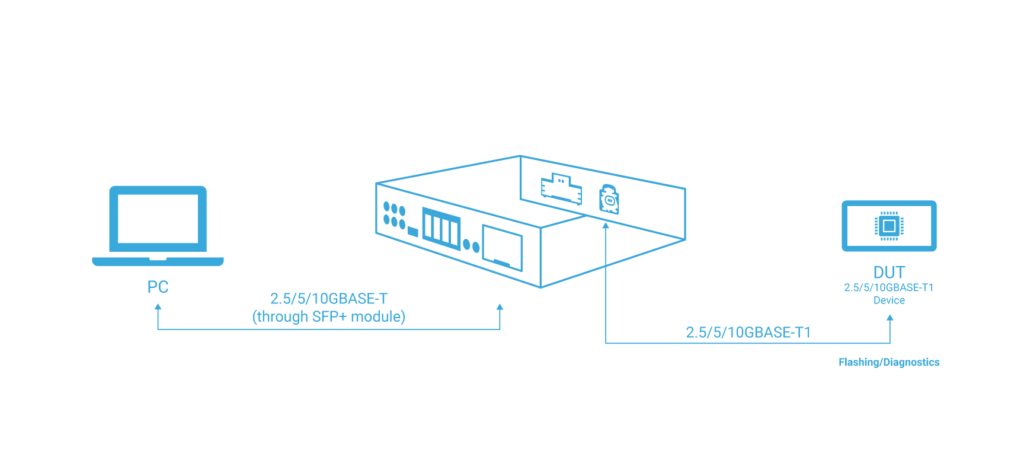 Downloads
Further information below
Fits well with