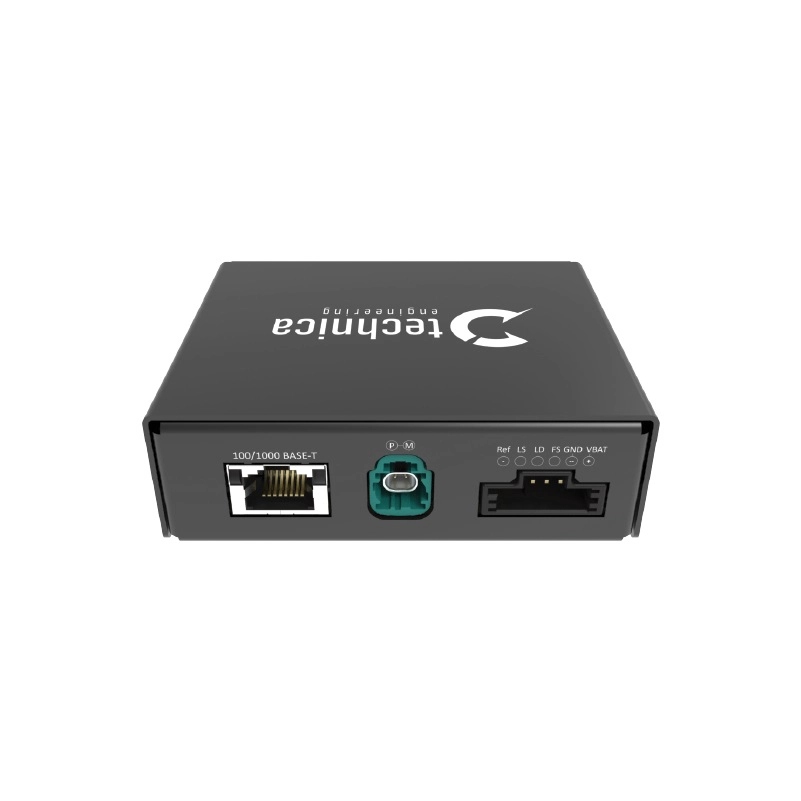 Art. Nr: 1406
MC 1000BASE-T1 H-MTD TC10
PrototypE
Product Description
The MediaConverter 1000BASE-T1 H-MTD TC10 of Technica Engineering establishes a direct point-to-point conversion between Automotive ECUs using 100/1000BASE-T1 Automotive Ethernet and a Standard Ethernet interface (e.g., test PC). In the conversion, no packets are stored or modified, the conversion takes place on the physical layer with the highest proven reliability.
This device uses the 88Q2221x Automotive Ethernet PHY supporting wakeup over Ethernet according to the Open Alliance TC10 specification. We ensure a trustworthy and effective tool to our customers who are looking for a cost-efficient, quick, and manageable solution for their testing requirements, with no latency and no packet loss.
The supported wakeup over Ethernet according to the Open Alliance TC10 is used to trigger the startup and shutdown of ECUs in the vehicle network. This is used for the first startup / wakeup of central ECUs, when the car is started by the driver.
The MC 1000BASE-T1 H-MTD TC10 features bi-directional conversion between Automotive Ethernet standards (100/1000BASE-T1) to, for example, a test PC with a Standard Ethernet network interface card. No customized driver is needed to interact with this MediaConverter.
A convenient housing coupled with DIP switches for ease of configuration, enables the user to interact with the converter in an easy-to-use manner. Its design makes it portable and easy to install in test racks. The metal housing makes it robust with IP20 protection.
The devices can also be accessed using the USB connector to read PHY register values and information about link quality and SQI. With the in-built status LEDs, the operation of the device is transparent and aids the tester to detect link-up and data transmission visually.
Thus, the MC 1000BASE-T1 H-MTD TC10 is the ideal solution for working quickly and efficiently with the new TC10 technology for Automotive Ethernet without the burden of extra-wiring, customized connectors, and vendor-specific tools.
Technical data
FACTS
4 × DIP switches for easy configuration
5 × Status LEDs
1 × Standard Ethernet port (100/1000BASE-T) for connection to a test PC or similar device
1 × H-MTD port for 100/1000BASE-T1 Automotive Ethernet
1 × MQS connector
Cableset:

Tyco MQS socket
1 × Automotive H-MTD connecting cable
Power cabling
Standard Ethernet Cable

Voltage requirement: 12 to 24 volt DC
Temperature Range: -40°C to + 85°C
Robust metal case with black powder-coating
Size: 89 x 72 x 28 mm
FEATURES
Support for wakeup via the BASE-T1 link according to the Open Alliance TC10 specification
TC10 wakeup can be configured using simple commands in the MediaConverter console
Wake-up/Sleep functionality
Converts between 100/1000BASE-T1 Automotive Ethernet and 100BASE-TX/1000BASE-T Standard Ethernet
Force Slave mode and link down (input) and provide link status (output) via special MQS connector
Debugging possible via Micro USB connection
Configuration via DIP switch:

DIP switch 1: Master/Slave
DIP switch 2: 100/1000 Mbps
DIP switch 3: IEEE-/Legacy-mode
DIP switch 4: Frame Generator
Use case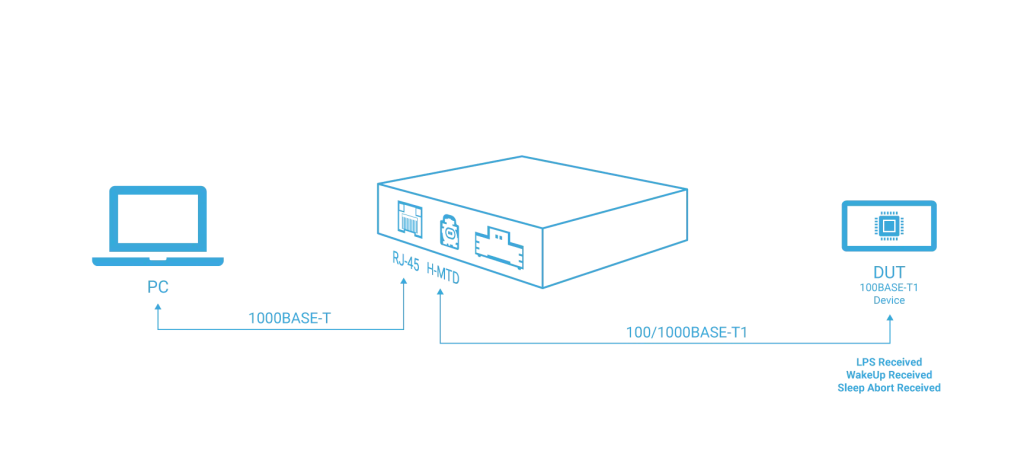 Downloads
Further information below
If you want to request the user manual for this device or receive more technical information, feel free to reach out to our team via technicalsales@technica-engineering.de.