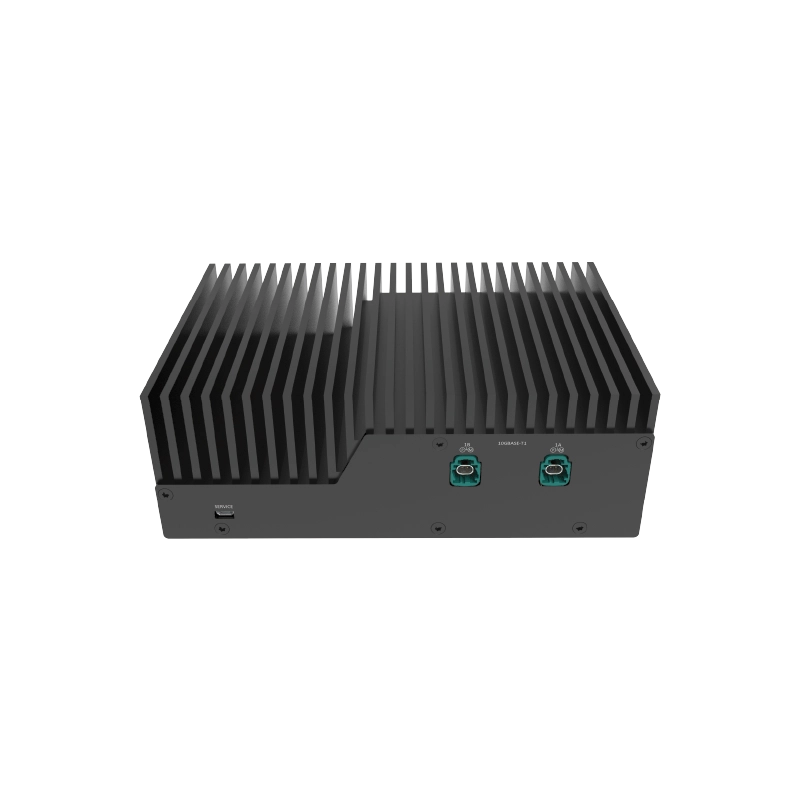 Part Number: 1191
CM MultiGigabit
prototype
Product Description
The CM MultiGigabit from Technica Engineering is a logging device for Automotive Ethernet with speed grades up to 10Gbit/s (10GBASE-T1), which are enabled through new PHY technology.
The device can be set to log three different data rates:
2.5 Gbit/s (2.5 GBASE-T1)
5 Gbit/s (5 GBASE-T1)
10 Gbit/s (10 GBASE-T1)
To be able to log the data with a minimal impact on the tested system, the Capture Module is placed in the middle of the communication line that is observed. This way, a state-of-the-art timestamping of the data sent over the line is enabled.
Our Capture Module MultiGigabit can be used to log one channel of 2.5/5/10 GBASE-T1 data, hence it has 2 ports (1x incoming traffic, 1x outgoing traffic).
Our Capture Module has two H-MTD connectors for the 2.5/5/10 GBASE-T1 incoming and outgoing traffic lines. For sending the captured traffic, it has the two SFP+ slots for the data uplink. Via these two SFP+ ports, the logged data can be transferred to a data logger or PC.
Further, the CM MultiGigabit contains a power connector, two Gigabit Standard Ethernet ports for configuration / timesync and a rotary switch to configure the device IP. When the Capture Module MultiGigabit is connected to a PC via the configuration port and a LAN cable, you can configure the device via an easy-to-use HTML configuration website.
Each message captured from the in-vehicle network (SerDes, CAN, LIN, Automotive Ethernet, …) is encapsulated in a standard transport layer frame. This requires embedding in a standard Ethernet frame according to IEEE 802.3. Data from non-Ethernet communication systems, as well as Ethernet-based systems, are transported in Ethernet frames and identified unambiguously using the protocol TECMP. Ethernet frames are transported without changes to them or their headers. All messages are left intact. This ensures that analysis tools can easily access the unchanged data including timestamped logs from all bus systems in one document.
All products of our Capture Module family support 802.1AS to enable time synchronization in applications with multiple communication technologies (SerDes, CAN, LIN, Automotive Ethernet, …) logged by our Capture Modules. Further, the TECMP protocol is supported to provide synchronized logfiles including important meta data. ASAM CMP will also be supported.
Technical data
FACTS
2x ports with 2.5/5/10GBASE-T1 PHY with H-MTD connector
1 × MQS connector with 1x Host port for configuration only
2x SFP+ Ports for Logging data output (up to 10Gbps each)
2x RJ-45 1000BASE-T Ethernet Ports for configuration and time synchronization
Extended voltage range 9 to 24 Volt DC (nominal 12/24 Volt DC)
17 to 32 Watt (depending on connected SFP Modules)
187 x 131 x 65 mm
Robust aluminum anodized case with integrated heatsink.
Temperature range: -40°Celsius to 75°Celsius
FEATURES
Captures the traffic from one 2.5/5/10GBASE-T1 Automotive Ethernet link line (one input and one output for each link line)
Easy configuration via webserver and remote-control APIs
Import and export of configurations
Network Time Synchronization supports several standards (ANVU gPTP / 802.1AS, PTPv2) – allowing the user to synchronize multiple Capture Module variants and other devices
Source timestamping with 40 ns resolution
High-speed startup (<400ms)
AVB/TSN capture capable
Time-aware injection
Rotary switch for manual configuration of the device IP address (Gbit, RJ-45)
TECMP support
Wake-up/Sleep functionality
Extended voltage range: 12-to-24-volt automotive battery voltage systems compatible
Possibility to reset to default settings by the rotary switch
Use case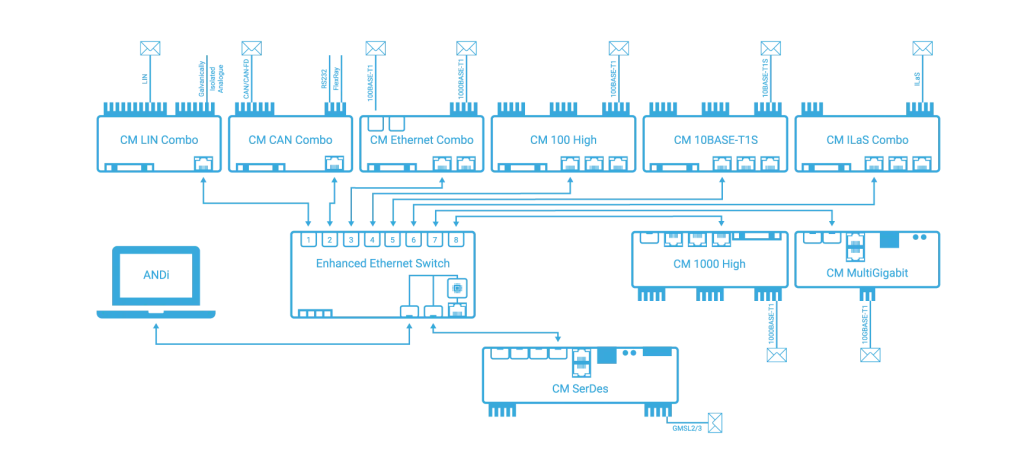 Downloads
Further information below
Fits well with
Don't miss a thing
Join our mailing list to know more about our engineering solutions