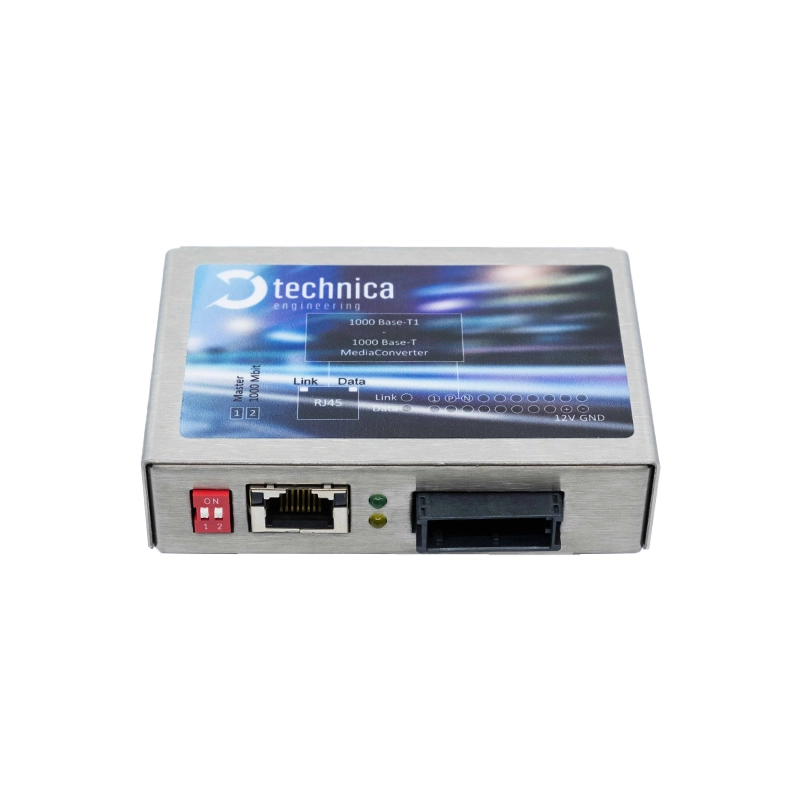 Part Number: 1401-1
MC 1000BASE-T1 Nano MQS
Product Description
The MC 1000BASE-T1 Nano MQS establishes one direct point-to-point conversion between automotive ECUs using 1000BASE-T1 (1000 Mbit/s Fullduplex, with 1x Twisted Pair cable) and any Standard Gigabit Ethernet (1 Gbit/s, 1000BASE-T) device with an RJ-45 connector. In the conversion, no packets are stored or modified. The conversion takes place on the Physical Layer with the highest proven reliability.
The device features a bi-directional conversion between Standard Gigabit Ethernet (1000BASE-T) and automotive gigabit Ethernet (1000BASE-T1). A stainless-steel housing, coupled with DIP switches for ease of configuration, which enables the user to interact with the converter, effortlessly.
No customized driver is needed to interact with our 1000BASE-T1 MediaConverter. The device communicates with standard Ethernet through an RJ-45 connector. It comes with an automotive-grade nano MQS connector (Power and 1000BASE-T1) and a standard Ethernet RJ-45 connector. Its design makes it portable and easy to install in test racks. The metal housing makes it robust with IP20 protection. The device is capable to function in a variating temperature range from -40 Celsius to +80 Celsius. With the in-built status LEDs, the operation of the device is transparent and aids the tester to detect Link up and data transmission visually.
By using the Marvell 88Q2112 A2 PHY, we ensure a trustworthy and effective tool for our customers that are looking for a cost-efficient, quick, and manageable solution for their testing requirements, with no latency and no packet loss. Via in-built configuration, 1000BASE-T1 MediaConverter establishes a link in the Marvell 88Q2112 A2 PHY "IEEE" mode by default. If the counterpart is running on "Legacy" mode, through the latest approved PHY register script, it announces this to 1000BASE-T1 MediaConverter, which in turn changes its PHY setting to match the "Legacy" mode and establishes the Ethernet link. For further information on this feature, please check the User Manual of our 1000Base-T1 MediaConverter.
No extra hardware or software is needed to work with the device with a PC or a Laptop. The device can be coupled with any hardware or software tool that uses Standard Gigabit Ethernet with an RJ-45 connector. The 1000BASE-T1 MediaConverter creates a direct and transparent interface with the automotive device connected to the other end. Thus, the 1000BASE-T1 MediaConverter is the ideal solution for working quickly and efficiently with the new 1000BASE-T1 technology without the hustle of extra-wiring, customized connectors, and vendor-specific tools.
Technical data
FACTS
1 × Standard Ethernet RJ-45 port
1 × Nano MQS connector
2 × DIP switches
4 × Status LEDs (2 of them at the RJ-45 port)
Included in the scope of delivery:

Tyco MQS socket
Automotive MATEnet connector
Cable set (Power, 1000BASE-T1)

Voltage requirement: 12 volt DC,
Power consumption: 2 Watt
Stainless steel housing
Size: 95 × 95 × 32mm
FEATURES
Converts between 1000BASE-T1 Automotive Ethernet (1000 MBit/s full duplex, 1x twisted pair cable) and Standard Gigabit Ethernet (1000BASE-T)
Configuration via DIP switches:

DIP switch 1: Master/Slave
DIP switch 2: 100/1000 Mbps
Use case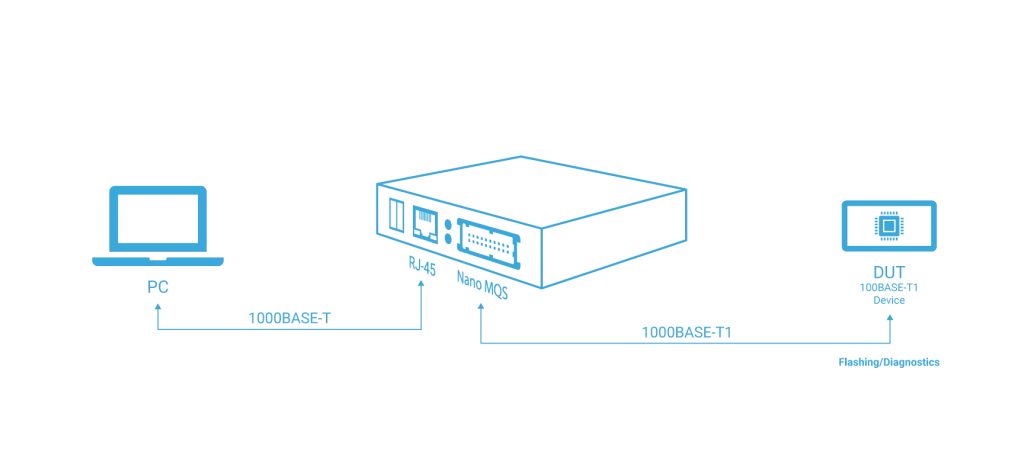 Fits well with