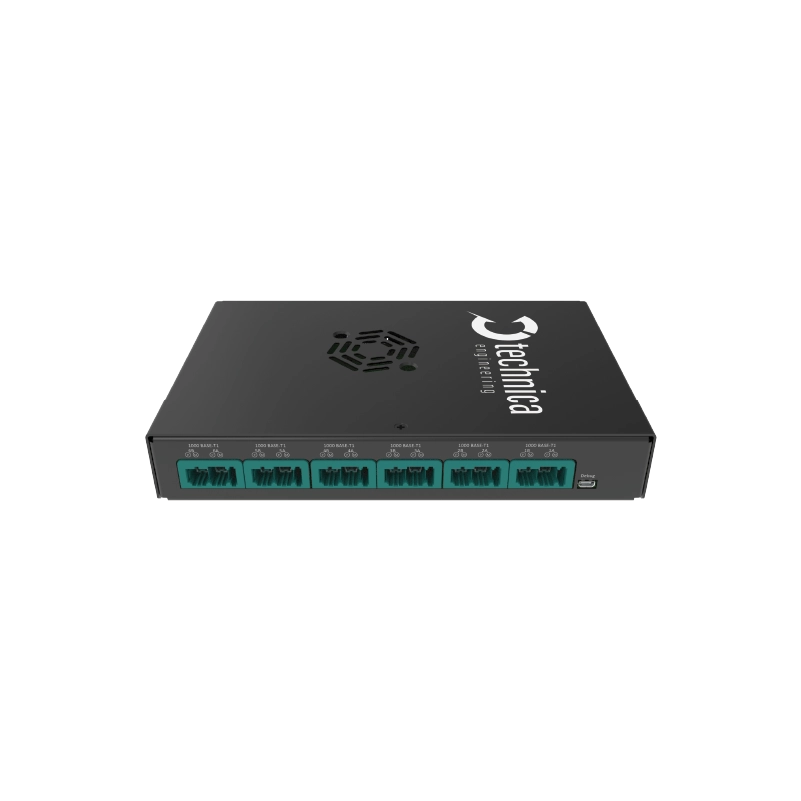 Part Number: TE-1176
CM 1000 High MATEnet
Product Description
The CM 1000 High MATEnet is an active tap device that is used to capture the traffic with 6 ports and up to 6 point-to-point 100/1000BASE-T1 connections (12 ports in total). The traffic is captured without causing interference on the network and delivered with a 40 ns resolution hardware time stamp, allowing for AVB/TSN traffic analysis. With a traffic shaping feature included, the logged output of many bus channels is steadily transferred to a data logger or test PC, eliminating bursts that might lead to a loss of data.
The Capture Module 1000 High provides all logged data in standard Ethernet frames via the Technically Enhanced Capture Modules Protocol (TECMP) and thus allows for traceability of the source of traffic, on-the-source timestamp, packet counter, etc., making Ethernet the ideal logging network. The Capture Module 1000 High emits messages timestamped with 40ns resolution, providing a fast and efficient solution that is supported by its extended Power Mode for car integration. These messages are sent within the PDUs of Ethernet MAC II frames via 1000BASE-T1 (or Gigabit Ethernet).
Several devices can be used on the same setup, if further 1000BASE-T1 ports are required, or if you want to log other bus systems. The built-in-synchronization using 802.1AS enables a time-synchronized, simultaneous use with other devices. This also enables the cascading of multiple Capture Modules via the Enhanced Ethernet Switch.
Via the built-in webserver of the Capture Module 1000 High, the device can easily be configured. Additionally, it includes a rotary switch for the manual configuration of its IP Addresses.
The Capture Module 1000 High includes a Startup buffer and High-Speed Startup feature, so the initial Startup information of the network is not lost. This way, the device can record all the important information emitted by the vehicle systems, without missing any message in the communication between devices.
Via the configuration website, the Marvell 88Q2112 A2 PHY's "IEEE mode", as well as the "Legacy mode" are supported by the Capture Module 1000 High. For a detailed technical description, please check the User Manual.
Technica Engineering´s Capture Module is an innovative and unique traffic-capturing solution with exclusive characteristics that are adapted to the current technological requirements in the automotive field. Its extraordinary features make the Capture Module 1000 High a great choice for a variety of tasks in the testing field. Our new generation of active tap devices, the Capture Module family, is developed to fulfill the most critical requirements in contemporary automotive ECU development. The Capture Modules are used by a variety of OEMs in the Automotive field.
Technical data
FACTS
6 × 2 Port MATEnet Header for 6 × 100/1000BASE-T1 Automotive Ethernet link lines
1 × Rotary switch
1 × MQS connector with 1 × Host port for configuration only
3 × RJ-45 1000BASE-T Standard Ethernet ports for logging and time synchronization
1 × SFP(+) port
21 × Status LEDs (6 of them at the RJ-45 ports)
Voltage range: 12 to 24 volt DC
Power consumption: 25 to 36 Watt
Robust galvanized sheet steel with black powder coated housing
Size: 186 × 130,4 × 32,5 m
FEATURES
Captures the traffic from up to 6 1000BASE-T1 Automotive Ethernet link lines (one input and one output for each link line)
Easy configuration via web server or dedicated UDP frames
Network Time Synchronization supports several standards (ANVU gPTP / 802.1AS, PTPv2) – allowing the user to synchronize multiple Capture Module variants and other devices
Source timestamping with 40 ns resolution
High-speed startup (<200ms)
Startup buffer
Output traffic shaping
AVB/TSN capture capable
Time-aware injection
Rotary switch for manual configuration of the device IP address (Gbit, RJ-45)
Extended power mode for car integration
Wake-up/Sleep functionality
Technically Enhanced Capture Module Protocol (TECMP), which is royalty free and provides timestamping, source information, etc. (natively supported in Wireshark (v3.4). GPL C libraries for conversion to PCAPNG available at https://github.com/Technica-Engineering)
Use case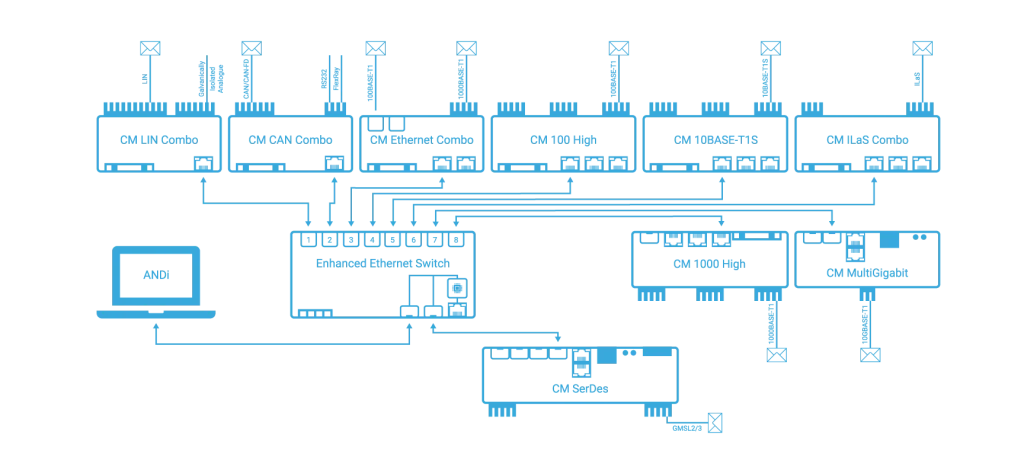 Downloads
Further information below
eu declaration of conformity Capture Module 1000 High